Florida National Premier League Success!
Congratulations to the 2004 Boys Team for finishing in First Place and the 2005 Boys Red for finishing Second Place in the NPL; this was a great success for both teams in their first year in the National Premier League! Both teams qualified to play in the Elite National Premier League Eastern Playoffs in Lancaster, Mass., June 29-July 3, 2018.
---
State Cup Success!
Congratulations to the 2005 Boys Red and 2000 Boys teams for making it into the second round of the Florida State Cup. The 2003 Boys Red; 2004 Boys; and 2003 Girls are also playing in the Second Round of State Cup! Their next weekend is April 21-22....Good Luck to all of our PSC Teams!
---
Palm Beach Late Season League!
Great job to the the 2008 Boys Red & 2005 Boys White who had a successful Palm Beach Late Season!
---
2003 Girls Attend the Florida Kraze Krush College ID Camp!
This event provided the girls with the opportunity to train and play games in front of coaches from a variety of NCAA, NAIA, & NJCAA College. This was a great experience for the girls and parents! The next FKK College ID Camp for both Boys and Girls for July 20 or July 21, 2018.
---
Player Achievement
Congratulations to Grace Keane (2005); Kyra Tuesta (2006); Cailey Katz (2004) and Baily Swigginis (2003) for being invited to the upcoming US National Training Center at the end of April!
---
Pre-Tryout Informational Team Meetings will be held by your your coach on the following dates:
| | | | |
| --- | --- | --- | --- |
| Monday, April 30 | Last 30 minutes of training | First Training of the Week | Meet Near Training Field |
| Tuesday, May 1 | Last 30 minutes of training | First Training of the Week | Meet Near Training Field |
---
NEW! 2018-2019 Tryouts
PSC Tryouts for the upcoming Season will be held the week of May 14th. All New and Returning Players will need to pre-register for tryouts on-line- Click on the Red Register Link at the top of the PSC homepage. During the week of tryouts, there will not be regular team trainining as the club will be following the tryout schedule.
Boys will be on May 14 & May 16
Girls will be on May 15 & May 17
---
Upcoming Tournaments:
2008 Girls White: FAU 5v5 April 14, 2018
2008 Girls White: Miami Cup April 27-29, 2018
2002 Boys: FC Sarasota April 27-29, 2018
2007 Boys White; 2007 Boys: Palm Beach Classic Red April 27-29, 2018
2008 Girls White: Pinecrest Premier April 28-29, 2018
2006 Boys White: The European Cup May 5-6, 2018
ALL excluding State Cup Teams: Palm Beach Cup: May 11-13, 2018
2008 Boys Red; 2007 Boys Red; 2006 Boys Red: Disney Memorial Day Tournament May 25-28, 2018
---
Bringing to a Close Another Great Year!
Annual end of the year party will be held on Thursday, May 24th....Specific times for each age group will be announced and email by your team manager.
Last Day of Training is Friday, May 25th.
---
Support the Make School Safe Foundation
The mission of Make Schools Safe Inc. (the "Foundation") is to make schools safe for all, especially the students attending school. The genesis of the Foundation is the 2/14/2018 tragedy at Marjory Stoneman Douglas High School in Parkland, Florida. This Foundation's mission is to make schools safe so that similar tragedies do not occur in the future.
Check out the website and on-line store!
---
Thank you to all of the friends, family, businesses, local charity groups, State and Local Soccer Associations for your outpouring of support to the club and to the Parkland Community. We wanted to share this article that was in ESPN about the experience with the US Women's National Team. Sincerely, Coach Laurie
For grieving family and friends of Alyssa Alhadeff, U.S. women's soccer provides joyous interlude (Mar.8, 2018)
ORLANDO, Fla. -- There was still dirt on the cleats. There hadn't been time to clean it off that night, the night before Valentine's Day. The Parkland, Florida, club soccer team that Alyssa Alhadeff played for and captained needed to squeeze in an extra game because of a scheduling logjam, so they played into the darkness of Feb. 13. Alhadeff played well. As well as her mom had ever seen the 14-year-old play.
"Literally everything came together for her," Lori Alhadeff recalled. "She was aggressive -- she was even heading balls that she couldn't even possibly get to that were above her height. She was passing. She played the most amazing game. And when she got into the car, I turned to her and said 'Alyssa, you know that was the best game of her life?' "
Lori said her daughter assured her that she knew, as if it was the most obvious statement in the world. It was a teenager's response, full of confidence. Full of games still to play. Full of life.
"That game was the day before Alyssa died," Lori Alhadeff said.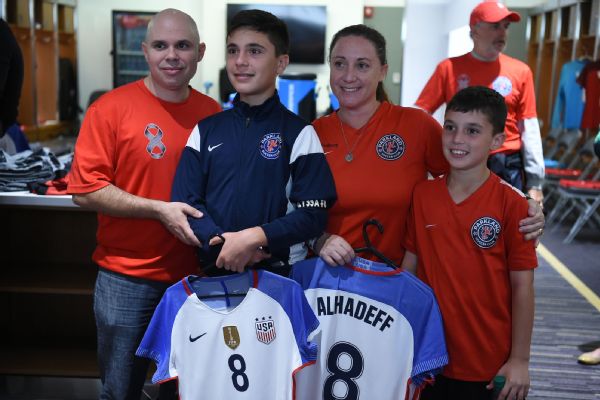 So there was still dirt on the cleats when Lori pulled them from her daughter's backpack Wednesday. Three weeks beyond the Valentine's Day that changed everything, she placed the cleats on the carpet next to a larger bag full of pristinely clean cleats in the United States women's national team locker room in Orlando City Stadium. It was almost three weeks to the hour since Alyssa, a freshman, was shot and killed by a gunman inside Marjory Stoneman Douglas High School in Parkland, one of 17 murdered that day.
The cleats in the bigger bag would soon enough be dirty, too, worn by U.S. players against England in the final game of the SheBelieves Cup. Then someone would clean them, pack them and the most famous team in women's sports would move on to its next game. The simple black cleats, on the other hand, would go back in the backpack and to Parkland with Lori, the dirt to be its own memorial to a life interrupted.
And yet it was important to Lori to see the cleats next to those of Alex Morgan and Carli Lloyd. Bringing her daughter with her in some way mattered for the same reason it mattered that 53 of Alyssa's club and high school teammates accompanied the family to tour the locker room Wednesday and meet the U.S. team. For so many of them, the women's national team represents a dream of what is possible. Of what it means to be strong and bold.
Wednesday was a reminder that it's OK to dream, to laugh, to be giddy around your idols.
To act exactly like Alyssa would have acted had she been there.
"I would not have missed today for anything," Lori said. "I'm a soccer mom, but I passionately love soccer with all my heart. It means the world to me to be here, and I know it would have meant the world to Alyssa to be here."
Orlando is a three-hour drive north from Parkland, but Wednesday came about when sisters Jamie and Emily Morris, high school teammates of Alhadeff's, used social media to reach out to the national team in hopes Alyssa would be honored at the game against England. In addition to the tour of the locker room before the game and an opportunity to meet players afterward, a minute of silence in honor of her and the 16 other victims was observed before the game.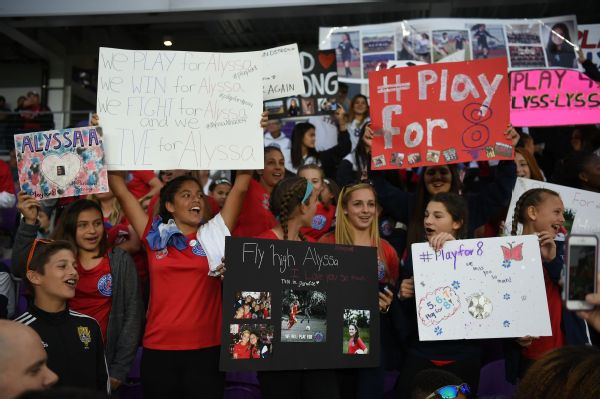 Women's national team equipment manager Ryan Dell added the final touch, suggesting the team present every player and family member with an official jersey that bore the same No. 8 that Alyssa wore and her name across the back. So as the U.S. team wound its way through SheBelieves Cup games in Columbus, Ohio, and Harrison, New Jersey, before Orlando, he and the team's assistant equipment manager printed more than 50 such jerseys.
In the minutes before the first of two groups of players from Parkland arrived, Dell counted and recounted the special jerseys as they hung in lockers next to those the U.S. players would wear later in the night. He worried about which direction they should face. Familiar with being the invisible presence making things run behind the scenes, he thought about what to say to several dozen teenagers who lost a friend and teammate or to a family that lost a daughter and sister.
"I think today was special because we had an opportunity to meet with an incredible group of young women and young soccer players," Dell said later. "And we hope that their experience here helps them to move forward in life and honor Alyssa's memory."
When he told them that the jerseys were theirs to keep, the Parkland players let out a collective gasp. Then like the Stoneman Douglas players who received the same message a few minutes before them, they set about swapping jerseys to find the right sizes, laughing with excitement. They took selfies in front of Morgan's locker and posed in front of Lloyd's. They unfurled a banner with images of Alyssa and took a team photo. It wasn't somber but joyful.
Even if the joy frequently mixed with tears.
Fascinated by that giant bag of cleats belonging to the national team, one Stoneman Douglas player asked one of the team's equipment staff why Tobin Heath's cleats were there even with the player absent because of injury (a pair is kept for everyone who might at some point be in camp). It was the question of more than a casual fan.
"I follow this team with my life," she explained. "I get so excited when the rosters come out."
Alyssa felt that way about soccer. She was small but had the biggest mouth on the team, her dad said (her mom gently suggested that loudest voice might be a better way to put it). She was the captain of her club team and good enough as a freshman to get a look on varsity at her high school. Her mom was the soccer connection, a former high school player herself.
"I tried to give her the advice," Lori said. "But I wasn't a helicopter mom. I wanted to also give Alyssa her space and to be able to develop as her own individual player."
There would have been no better place to be Wednesday for a girl like that than this stadium.
"Alyssa loved the U.S. Soccer team," said her dad, Ilan Alhadeff. "When they were on TV, she wanted to watch."
Long after the stage from the trophy presentation had been disassembled and the rest of the stadium had emptied, U.S. players came back out on the field to sign autographs, take pictures and offer all the hugs they could to the group from Parkland. Lori and Ilan were in the middle of the line with their two sons. When Lloyd reached her, Lori admitted that Morgan was Alyssa's favorite player, the daughter won over by an interaction at a book signing some years earlier. But one Northeast native to another, Lori confided that Lloyd would always be her favorite.
She was laughing as she said it. And crying.
Wednesday was only an interlude. It didn't take away any of the loss, only lightened the load for a few hours. There are harder days ahead and more meaningful ones. Lori and Ilan don't want to be silent or let their daughter's death fade away without prompting change.
"We lost one of the great ones," Lori said. "However, moving forward, we are going to fight for all of the kids out there. We are going to fight to make our schools safe again."
But for a night it was about soccer again. For the players to be among their idols and for Lori to be among so many girls who can live out the dreams that her daughter can't. It's what she told them at the funeral.
Be something fabulous, she said then.
So they came Wednesday to cry but also to celebrate, as when they gathered in the locker room for a photo.
"Wait, I have to wipe my tears," one player said.
So she did. And then she smiled. May it last as long as possible.
Graham Hays covers college sports for espnW, including softball and soccer. Hays began with ESPN in 1999.
---